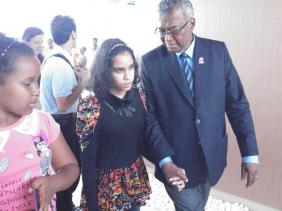 C'est vers 11h15 ce matin que Jane Constante gagnante de The Voice Kids est arrivée applaudi par ses admirateurs. Jane est rentrée très heureuse. Elle n'arrive toujours pas a croire qu'elle a remporté ce prestigieux concours. A ses fans elle rassure, elle sera toujours la même.
Malgré la pluie des mauriciens ont tenu a être la pour la saluer.
Comme une bonne nouvelle ne vient jamais seule, un concert est prévu. Un trust a été lancé pour réaliser le rêve Jane
Xavier Duval, premier ministre adjoint promet que le gouvernement encadrera l'adolescente. Une structure sera mis en place pour encadrer les jeunes talents avec des difficultés.
Elle est parti sur la point des pieds et a son retour elle a été accueillie en fanfare. La jeune star poursuit son chemin avec le soutien des mauriciens qui se rappelleront de ce fameux 24 octobre 2015. Ce soir la une jeune mauricienne a remporté l'émission radio crochet The Voice kids, sur la chaîne française, TF1.