| Posted by

Dasa Appalasawmy

| 0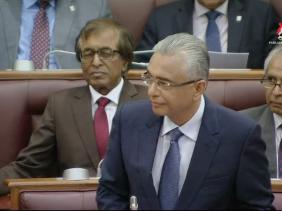 Enhancing our Tourism Product
89. I now come to our plan to further develop our tourism industry which is a main pillar of our economy.
90. The strategy going forward will be to widen and diversify our tourism product while at the same time increasing arrivals during the low season.
91. Our policy will focus on enhanced connectivity, sustainability and promoting new tourist attractions.
92. We have now two additional airlines Saudi Airlines and Kenya Airways serving Mauritius.
93. Moreover, Air Mauritius, is receiving two new aircrafts this year that will increase its capacity and flight frequency while expanding its destination network.
94. Mauritius is well poised to be a leading cruise destination in the Indian Ocean. The construction of a dedicated cruise Terminal Building with
cutting edge
technologies and modern facilities capable of handling up to 4,000 passengers will greatly contribute to position Port-Louis harbour as a cruise hub in the region and as the preferred 'fly-cruise' gateway to the Indian Ocean.
95. To expand our tourism product and create more linkages with local businesses, we will encourage community-based and inclusive tourism.
96. As a pilot project, we will fully harness the potential of Mahebourg as a 'Village Touristique' and as a major cultural and eco-tourism attraction. Mahebourg has rich historical and green assets; the Blue Bay Marine Park, Vallée de Ferney, the Naval Museum, the site of the epic Grand Port naval battle, and near-by islets, amongst others.
97. These existing advantages of Mahebourg will be reinforced with new facilities for cultural shows. Selected streets will be made solely pedestrian during certain hours to encourage street art, musical performances and sales of handicrafts.
98. This Mahebourg regeneration project will be implemented through a public-private partnership endeavor.
99. To make the Mauritian tourism product more visitor-friendly, new digital platforms will be created to provide information on safety, costs of inland travel, road maps, dining, shopping and exchange rates of currencies, amongst others.
100. To improve safety at sea, all pleasure crafts will mandatorily be equipped with an Automatic Identification System to monitor their activities.