| Posted by

Dasa Appalasawmy

| 0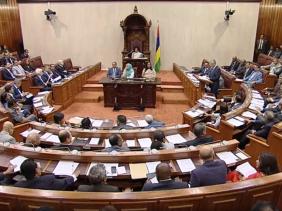 Developing our Film Industry
105. I now come to the film industry which is showing significant potential for job creation and new opportunities for our artists to maximize their talents. The Film Rebate Scheme is gaining momentum, delivering strong outcomes and attracting
world renowned
film producers. To build up on that momentum, a Film Promotion Fund will be created under the EDB, with a seed capital of Rs 500 million.
Further Opening up our Economy and Country
106. Madam Speaker, on our Transformative Journey it will be imperative and indeed crucial that we further open up our economy and country to the rest of the world.
107. To this end, the EDB will manage two schemes to attract High Net Worth individuals who satisfy defined criteria and after due diligence. The first scheme will offer foreigners the opportunity to obtain Mauritian citizenship provided they make a non-refundable contribution of USD 1 million to a Mauritius Sovereign Fund. For their spouse and dependents, they will have to make an additional contribution of USD 100,000 per member of family.
108. The second scheme will offer the opportunity to obtain a Mauritian passport provided they make a contribution of USD 500,000 to the Mauritius Sovereign Fund. For their spouse and dependents, they will have to make an additional contribution of USD 50,000 per passport.
109. The Mauritius Sovereign Fund will be managed by the Mauritius National Investment Authority. Any withdrawal from the Fund will be used to meet disbursements for new capital projects and public debt repayments.
110. The EDB will also operate a Foreign Manpower Scheme to attract foreign talents, particularly in emerging sectors such as AI, Biotechnology, smart agriculture and the Ocean Economy, amongst others. An application for an occupation permit will be processed within 5 days by the EDB and the employer will have to contribute the equivalent of one-month salary per foreign worker recruited.
111. Government will also offer a new package of fiscal and non-fiscal facilities to attract foreign retirees. Besides the right to acquire an apartment, they will be exempted from payment of customs duties on the import of personal effects up to a value of Rs 2 million.
Further Promoting Innovative Entrepreneurship
112. Madam Speaker, on our Transformative Journey, as I have said earlier, our achievements will be judged not only by how much wealth we create but also by how inclusive they are. That is why this Government will always stand by the micro, small and
medium sized
enterprises (MSMEs) as they take risks, venture in new activities and create jobs.
113. Indeed, we are today addressing in a very significant way one of the biggest concerns of these enterprises, which is access to finance.
114. DBM will earmark an amount of Rs 1 billion to support the
MSMEs through a set of schemes.
• First, it will offer loan facilities for start-ups, young entrepreneurs and women entrepreneurs at an interest rate of 3 percent;
• Second, it will provide loans of up to Rs 3 million to planters engaging in sheltered farming at an interest rate of 3 percent, with a moratorium on capital repayment in the first year;
• Third, it will offer loan up to a maximum of Rs 1 million to operators of organic farms with a moratorium of 2 years, on capital repayment, depending on the project;
• Fourth, DBM will operate an Enterprise Modernisation Scheme aimed at providing finance lease facilities to MSMEs with turnover up to Rs 10 million to modernize their plant and equipment;
• Fifth, DBM will operate a factoring window aimed at providing quick working capital to MSMEs by discounting their invoices;
• And sixth, to ease the cash flow of businesses, a VAT-registered person will henceforth not be required to pay VAT on import of machinery and equipment, if the amount payable is Rs 150,000 or more.
115. The DBM will also provide non-financial support to the MSMEs through a new Hand-holding and Mentoring cell