| Posted by

Dasa Appalasawmy

| 0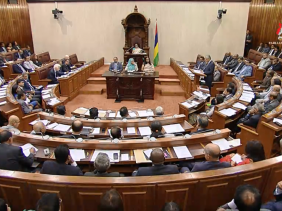 V. SECURING SUSTAINABLE DEVELOPMENT BY MAKING SIGNIFICANT INVESTMENT TO PROTECT AND ENHANCE OUR ENVIRONMENT
135. I will now elaborate our plan to secure sustainable development.
136. Our citizens and residents, present as well as future, deserve a country with a sustainable environment that enables a healthy, productive and meaningful life.
137. Yet climate change is dramatically altering the equation – putting at risk the very sustainability of our development.
138. We have experienced recently a series of extreme weather conditions, in particular flash rains and flooding that have caused miseries to thousands of families.
139. We must, as a nation, be up to the challenge.
140. That is why this year our effort to mobilise resources to address our environmental issues is unprecedented.
141. Indeed, an amount of Rs 2 billion will be transferred in this fiscal year to the National Environment Fund, created under an Act of Parliament in 2002. We have already circulated a Supplementary Appropriation Bill for the appropriation of that amount.
142. The Fund will be revamped to further mobilise funding from international sources, such as the Green Climate Fund and the Global Environment Facility.
143. In this respect, I am pleased to announce that we have mobilised some Rs 450 million from the King Salman Humanitarian Aid and Relief Centre and the Adaptation Fund Board of the United Nation.
144. The National Environment Fund will be used as follows:
• First, for the construction of drain infrastructure in more than 25
flood prone
regions across the country;
• Second, to equip the 12 Local Authorities to undertake continuous maintenance and cleaning of drains, rivers and canals;
• Third, to acquire a high resolution and aerial
3D imagery Digital Elevation Model to update our flood map and prepare a full-fledged Land Drainage Master Plan;
• Fourth, the rehabilitation, protection and management of our beaches, lagoons and coral reefs;
• Fifth, to carry out the Clean Up Mauritius and Embellishment Campaign – " Moris Nou Zoli Pei";
• Sixth, expansion of Solid Waste Management facilities and developing a comprehensive Waste Recycling Framework;
• Seventh, undertaking Landslide Management initiatives; and
• Eighth, conducting Disaster Risk Reduction Operations.
145. In addition, to better protect lives and properties and support the victims of floods and other calamities, we are providing for -
i. the acquisition of 3 additional automatic rainfall monitoring stations over the next three years to get
real time
data on flash floods in regions that are vulnerable;
ii. the recruitment of 114 more firefighters who will be trained in the Swift Water and Rope Rescue Programme;
iii. the recruitment of another 100 additional firefighters and 30 additional Fire Station Officers to increase inspection and enforcement in buildings;
iv. the recruitment of 100 Officers in the
inspectorate
cadre of the local authorities for stricter control of planning conditions; and
v. the operation of the Doppler Weather Radar by October this year. This will bring a significant improvement in our early warning systems.
• The granting of
morcellement
permit will be reviewed with a provision for a Drain Impact Assessment to be undertaken as part of the EIA report;
• The legal framework will be amended to allow for pulling down of illegal constructions, especially those affecting the drainage system;
• An audit of rivers and
water courses
will be carried out to assess their carrying capacity with a view to taking remedial action; and
• Climate resiliency will be integrated in all infrastructure projects of the public sector including new Social Housing projects. This will be a sine-qua-non condition for financing by Government.
147. Madam Speaker, we must also tackle the issue of proliferation of stray dogs that has an impact on our living environment. And we must do so with humanity.
148. To this end, Government is earmarking two plots of land to be provided to NGOs to develop shelters for the stray animals.