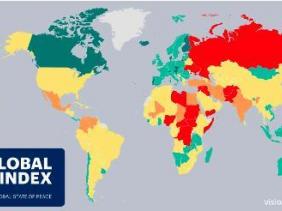 Le Botswana, le Chili, le Costa Rica, le Japon, les Îles Maurice, le Panama, le Qatar, la Suisse, l'Uruguay et le Vietnam. Ce sont, selon le Global Peace Index du Think Tank Institute of Economics and Peace (IEP), les seuls pays au monde à être complètement en paix. 10, ça ne fait pas beaucoup. Chaque année, le think tank produit cet indice de la paix, et il y a moins de pays dessus en 2016 qu'en 2015.
Le principal responsable ? Le Moyen-Orient, où les crises se multiplient et empirent. "Si on avait retiré le Moyen-Orient de l'indice sur la décennie précédente, et sur l'année dernière, le monde aurait montré plus de paix", explique Steve Killela, fondateur de l'IEP, à The Independent.
Ainsi, le nombre de morts sur le champ de bataille est en augmentation, mais à eux seuls la Syrie, l'Irak et l'Afghanistan représentent 75% de ces morts.