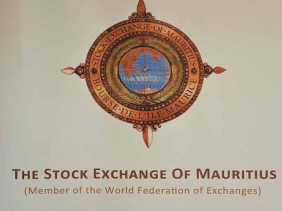 Cette semaine ci, une délégation de la national Stock exchange de L'inde sera a Maurice pour signer une accord de Principe avec la Stock exchange of Mauritius. Un accord qui permettra plus de collaboration entre les deux bourses de Valeur.
La National Stock Exchange de L'inde est une des plus grande bourse des valeur de L''Asie, avec tout une diversité de produits cotés. Maurice avec la mis en place de sa nouvelle vision veut être le centre financier pour l'Afrique. Dans cette perspective des pourparlers ont eu lieu a Mumbai il y a deux mois entre la les Haut officiel de la NSE, Sunil Benimadhu, CEO de Stock exchange of Mauritius et le Ministre des services financiers Roshi Bhadain.
Parmi les discussions, la formation du personnel de la Bourse de Maurice, assurée par la national stock exchange Indien, et aussi une plateforme commune pour lister des compagnies des deux pays.
Maurice et L'inde veulent également a travers l'accord créer une plateforme pour permettre aux firmes africaines d'avoir accès aux capitaux.