| Posted by

Daivik Rajcomar

| 0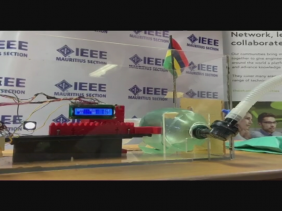 Maurivent Apparatus, c'est un projet qui a été développé par un groupe d'étudiants et de chercheurs de L'Institute of Electrical and Electronics Engineer de l'Université de Maurice et de L'Université de Technologie de Maurice, de L'Institute of Engineering and Technology, de Rotrax et du National Computer Board. Il consiste à créer un respirateur d'urgence automatisé.
Cet équipement pourrait être d'une grande aide dans la prise en charge de patients nécessitant une assistance respiratoire d'urgence.
Le ministre de la Santé et du bien-être a rencontré l'équipe du projet. Le Dr. Kailesh Jugutpal a pris note de l'avancée du projet.
Le compte-rendu de Manisha Jooty :